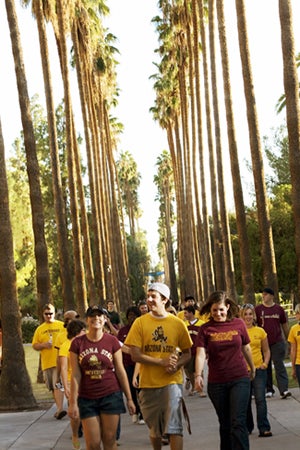 Recently, I attended Preview Day for the
Full-time MBA program at ASU
. The schedule consisted of an opening speech by the stylish and cheerful female Associate Dean who assured us that NOW IS THE TIME to return to school. After that it was three sessions on curriculum, career placement and admissions, a sample marketing class (taught by another spunky young female professor), followed by lunch, a discussion on financing your education and a meet-n-greet with a group of smiling and I'd guess highly caffeinated current students.
Here is a progression of my mood throughout the day:
7:30am.
Nervous
- did I dress okay? Will the admissions staff remember that didn't wear a suit jacket when they look at the application I might submit in a few months?
8:15am.
Excited and Reassured
- "Yes! A successful, competent women and someone I'd like to emulate later in life is telling me that this is the
right decision
!"
9:15am.
Slightly
Confused
- don't all MBA programs have basically the same curriculum?
10:15am.
Less-Than-Thrilled
- apparently, the number of corporations coming on campus to hire students has dropped slightly, and it seems that no one quite knows what to do with those of us interested in the nonprofit sector or wanting to start their own businesses (despite an area of emphasis in
Entrepreneurship
. Hmm...)
11:15am.
Terrified and Bummed
- "You only accept
14% of applicants
?" "There are more students accepted from OUTSIDE ARIZONA than within our own community?"
12:15pm.
Amused
- I liked the marketing class. The professor and the speed at which the material was presented were both exciting. But I doubt it is much of an accurate example of the average MBA class. What - they don't think we'll join up if made to sit through Business Ethics or Applied Statistics?
1:00pm.
Back to
Nervous
- The $40,000/year
sample budget
is looking pretty accurate when broken down, and the longer you wait to apply, diligently preparing yourself to earn entrance to
the ranked program
, the less likely it is that you will receive scholarship dollars. Not exactly win-win.
1:30pm.
Wistful
- I remember what it was like when I first started as a Freshman undergraduate at ASU - being involved in lots of clubs, spending tons of time with like-minded people, and having access to the newest research and most interesting information available. That's what those chipper students promise, and I believe them.
After taking a few days to digest the experience, meeting a new friend with similar nonprofit/social entrepreneurship ambitions who
loves
the program, and interviewing for yet another position I didn't get, I am ready to take the plunge! I'm going to buy the GMAT prep book and CD ROM, I know who I am going to ask for recommendations, I AM going to get in, and it will be great!
And then...the parents came to town.
I love my parents, and while my dad and I may never agree on politics and my mom takes "eternal optimist" to a whole new level, I think they are stellar people who have made a lot of good decisions and raised me well. My dad is a scientist and my mom is with a corporate bank. They are generous and smart, traditional and supportive, and they love me a lot. They also have never been in debt, both have worked for their respected companies for 30+ years, and they are well-prepared for retirement. They work hard, show up on time (apparently
that
gene
skipped a generation
), and save a lot.
They do NOT think I should go back to school.